The Arts and Design Newsletter- Spotlight On: Fashion
University for the Creative Arts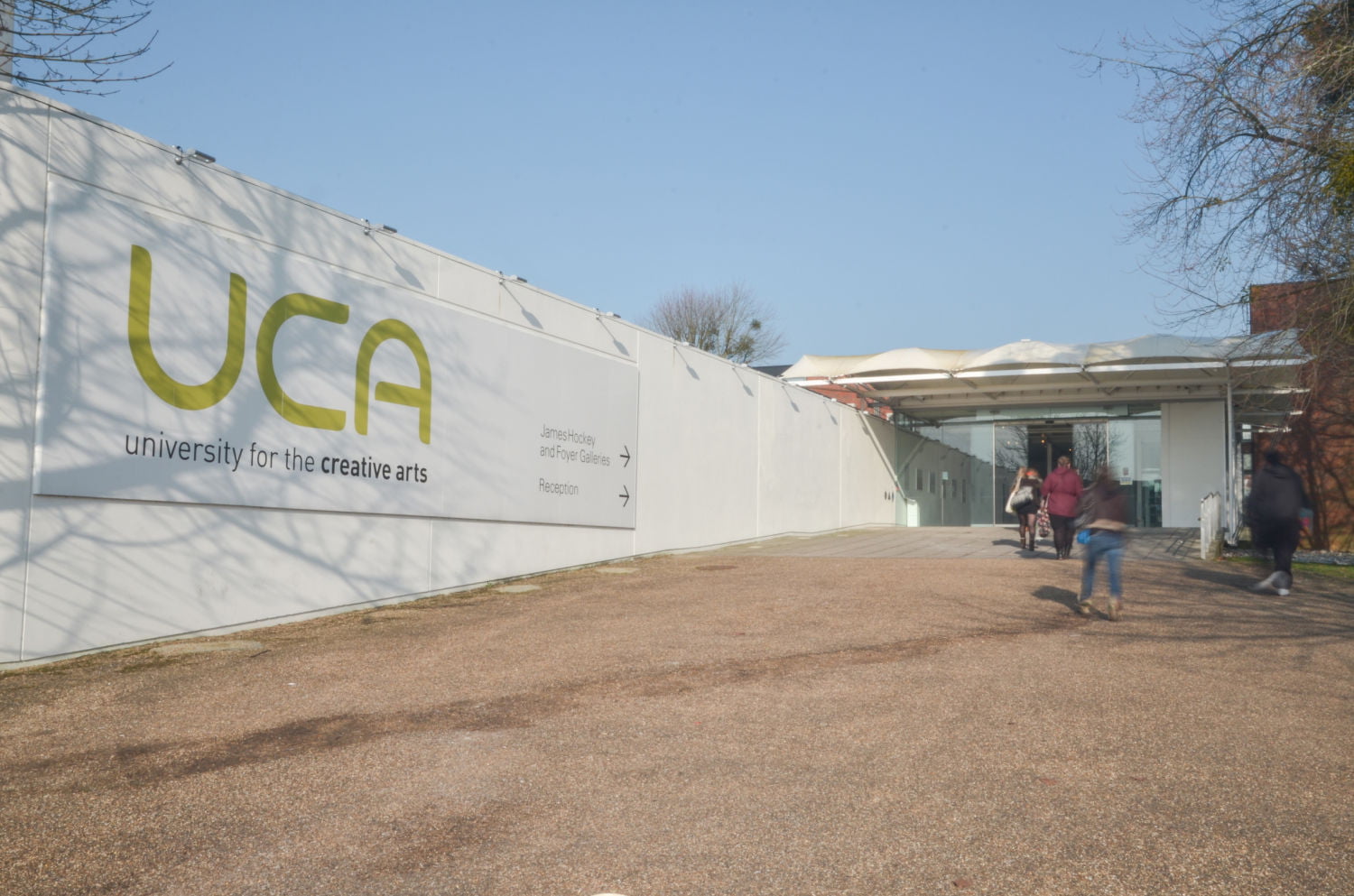 BA Fashion; BA Fashions Atelier; BA Fashion Design; BA Fashion Textiles: Print; BA Hand Embroidery; BA Textiles for Fashion and Interiors; 
University for the Creative Arts offers a range of fashion courses, all of which are based in their fashion studios offering industry standard facilities for design, drawing, pattern-cutting and pressing, and access to sewing facilities, printmaking and photography studios.
Fashion courses at the University for the Creative Arts build a strong foundation of fashion theory and history, while an emphasis on drawing and illustration help students build the skills to effectively communicate with industry professionals.  University for the Creative Arts also benefits from strong industry links, giving students many options for their second year work placements. Students will also receive the opportunity to work on live project briefs set by leading fashion companies such as Red or Dead, Warehouse and Ralph Lauren, as well as enter competitions with them throughout their degree.
University of East London
BA Fashion; BA Fashion Textiles
The University of East London offers two fashion related courses: Fashion Design and Fashion Textiles, both of which also offer the possibility of a foundation year. The courses themselves are taught my industry professionals, and have been ranked as fourth in London for Fashion and Textiles in the Guardian University Guide 2018.
Students at UEL area also able to take an optional placements year where they can work with brands such like Marks and Spencer's and Fashion companies such as Diesel or Urban Outfitters.Student are also given the opportunity to showcase their pieces at Graduate Fashion Week- the largest fashion show of its kind.
Kingston University London
Fashion at Kingston sits in the Kingston School of Arts. The course has been awarded the Creative SkillSet Tick which recognises outstanding courses and their contribution to the creative industries. It is also ranked second in the Guardian's 2018 fashion and textiles subject league.
Students at Kingston have unique access to the working dress archive which includes pieces from 1750 to the present day. Students will also have the opportunity to participate in sponsored projects, including fully paid summer internships at companies such as Urban Outfitters, Gap Inc, Tommy Hilfiger, H&M and Inditex Group (Zara). Students are able to exhibit their work in the end of year show, and have their portfolios shown at the British Fashion Council preview day and at Graduate Fashion week.
London Metropolitan University 
BA Fashion; BA Fashion Accessories and Jewellery; BA Fashion and Textiles with a Foundation Year
Fashion at London Metropolitan is taught at the renowned art and design centre, the Cass. The environment is multi-disciplinary with fashion, textiles and jewellery all working together exposing students to the broader industry and their interrelated influences. The course focuses on graduate employability with art and design modules running alongside business studies.
A mixture of academic staff and visiting lectures will share their experiences with fashion houses such as Balmain, Givenchy, Louis Vuitton and Pringle.  London Metropolitan also offers their students numerous networking opportunities with major brands which are invaluable for securing internships or future employment.
Middlesex University
BA Fashion Design; BA Fashion Textiles; BA Fashion Communication and Styling
All three fashion related courses at Middlesex University are taught at The Grove, a state of the art facility, meaning that almost anything can be produced in-house.  Middlesex has strong links with industry allowing for competitions to be run with external bodies and for guest lectures with industry professionals. These close links also allow students to undertake a six-week work placement in preparation for London Fashion week. In the past students have worked with designers such as Charles Jeffrey, Sibling, Erdem, Molly Goddard, Peter Pillotto, Giles Deacon and Burberry.
Finally at the end of their degree students will exhibit their work at a fashion show in the End of Year Degree Show- giving students the opportunity to present their talent to possible employers.
Ravensbourne
BA Fashion; BA Fashion Accessory Design 
Ravensbourne, with its strong ties of industry, offers an acclaimed fashion degree as well as a unique fashion accessories design course. Students are given the opportunity to present their work at Graduate Fashion week, where many up and coming designers are discovered. All Fashion degree programmes at Ravensbourne have a strong record of student industry placements and a strong reputation in the fashion industry. According to Fashionista.com, Ravensbourne ranks 20th in the world and 6th in the UK for Fashion.
Ravensbourne also offers the unique opportunity for students from across their fashion courses to collaborate to create new denim brand proposals that reflect a brief set by VF Corporation.
University of West London
Fashion and Textiles at University of West London is available with or without a foundation year. Throughout their degree, students will have access to specialist equipment such as digital computer aided design packages, digital fabric printing, 3D printing, laser cutting technologies, a range of industry standard sewing and knitting machines, fabric dyeing, screen printing and heatpress facilities.
There is a strong focus of employment and work experience at University of West London: students are supported and encouraged through specialist lectures, workshops and tutorial to organise relevant personal work placements during their time at university.
As with many other fashion degrees, students are also able to showcase their work at Graduate Fashion Week and high-profile competitions.
University of Westminster
The University of Westminster Fashion Design course is accredited by Creative Skillset, the Sector Skills Council (SSC) for the creative industries. This course is also available with a year in industry. Students are trained to the highest levels of the international fashion industry through live projects, guest lectures and opportunity to be on London Fashion Week.
Founded by the University of Westminster is also Fashion Retail Club. This is now a global club for students and graduates in the industry and fashion retail companies and it's a great way for spotting talent from an industry perspective. The university is also home to the world's first menswear archive, containing garments ranging from WWI clothing to statement pieces from the likes of Jean Paul Gaultier, Alexander McQueen and Burberry.