The Arts and Design Newsletter- Spotlight On: Music
Brunel University London
Music at Brunel sits in the College of Business, Arts and Social Sciences. This course focuses on the academic study of music while allowing students the freedom to pursue composition, performance and music technology. The development of Western music is also examined from song to sonata form, symphony to opera and from musical theatre to film music.
Brunel has a strong tradition of practical music-making and is home to a number of ensembles that students can participate in including Jazzbridge, Brunel Vox, New Noise and Chamber Orchestra. Students can also visit Brunel Arts which holds regular lunchtime and evening concerts featuring visiting performers, music students and staff.
Associated with Music at Brunel are a number of artists and ensembles, currently including Apartment House, Piano Circus, and Distractfold Ensemble.
City, University of London
Music;  Music, Sound and Technology
The Department of Music sits in the School of Art and Social Science at City University of London and offers two Music degrees: BMus in Music and BSc in Music, Sound and Technology.  Student studying either of these will benefit from a wide range of facilities such as a recording studio is equipped to deliver multi-track recording and mixing to a professional level; a compositional studio dedicated to film and live electronic work and three stereo composition studio all equipped for sound editing processing and mixing. In addition to these, students will also have access to professional performance space, computer laboratories, rehearsal and practice rooms and world music instruments.
Students on the BMus course can also compete for seven £2000 scholarships and will be offered 20 hours per year solo instrument or vocal tuition at no extra cost.
University of Hull
Music (Jazz);  Music (Popular);  Music and Film Studies; Music and Theatre; Music BA; Music BMus; Music with a Modern Language
The University of Hull, students are able to specialise in whatever area of music most interests them so that they get the most out of their time in Hull and become the musician they want to be. With a superb array of musical instruments, recording equipment and rehearsal rooms at their disposal, students will have the opportunity to develop specialist skills in different areas of music, including performance, composition, technology, and musicology. The teaching staff are experts and active practitioners in a variety of musical disciplines and will deliver a unique perspective on the current trends in musical thinking.
Students will have access to some of the best music facilities of their kind, including a 400-seat concert hall, a surround-sound cinema, an ambisonic sound studio, and industry-standard recording and rehearsal facilities.
Kingston University London
Music Technology BA(Hons) single honours; Popular Music BA(Hons) single honours
At Kingston, students are able to produce and record their own music in unique facilities which include recording studios, rehearsal rooms, Pro Tools and Logic-based MIDI/editing suites, a synthesis/sampling lab, and the analogue/digital hybrid Visconti Studio.
In partnership with world-famous record producer Tony Visconti, the British Library and Science Museum, the Visconti Studio comprises of a 300m² octagonal live room stocked with Studer, Neve, Neumann, Universal Audio, Roland Space Echo). The tape-based studio also features a unique collection of instruments including a Mellotron, a Hammond organ with Leslie cabinet, and a Steinway concert grand piano. Additional facilitates include Coombehurst House, which features an SSL desk and quality outboard.
Middlesex University
Popular Music BA Honours; Jazz BA Honours; Music BA Honours
The Department of Performing Arts in the Faculty of Arts and Creative Industries at Middlesex University offers three music degrees.
When studying music, students are based in The Grove, an £80 million state-of-the-art learning facility, where they will work with dedicated Music staff of national and international standing.  New facilities include a concert hall, music production suites, state-of-the-art soundproofed practice rooms and recording studios, all with technician and sound engineers to support students.
The campus is in the heart of London's music scene allowing students access to promoters, record labels, concerts and gigs; students have performed at venues such as Cargo and the Jazz Café.
Students are also offered the opportunity to study aboard for six month to a year and to collaborate musically with other undergraduate students working in dance, theatre, animation, film and computer games.
Ravensbourne
BA (Hons) Music and Sound Production
Music and Sound Production at Ravensbourne is practically focused and will enable students to work creatively with sound and music in direct preparation for work in the creative industries. They will develop knowledge and the mindsets and skillsets to support their own creativity, including critical listening, editing, arranging, composing, producing, technical and storytelling skills. Students gain an understanding of how sound and music intersect with moving image (film, games and television) and are encouraged to apply the technical and creative aspects of sound and music production in a project-based learning environment. Collaboration is at the heart of the course and students will undertake project briefs with other students to realise projects as part of a team. Teaching staff and visiting professionals bring a strong industry perspective throughout the course
Royal Holloway, University of London
Music at Royal Holloway is very flexible with no compulsory modules. Students are able to study music alone or music as a joint honour, or majority component, of a Bachelor of Arts degree with a Modern Language, English, Philosophy, Political Studies, Drama, Economics, History, Mathematics and Physics.
Students will be able to access well-equipped studios and recording facilities as well as performances such as the Windsor Auditorium, Boilerhouse Theatre, Victorian Picture Gallery and College Chapel. Students are able to make value contacts within the music industry, with staff being connected this musical networks including Wigmore Hall, the BBC Prims and the Royal Opera House.
Every Royal Holloway music student will also receive tuition on their first instrument (or vocals) at no extra cost and the opportunity to apply for choral, organ and orchestral scholarships.
University of Sussex
Students at the University of Sussex are taught by internationally recognised composers and musicologists, who have found success across music forms from opera to film. Students also will have 24-hour access to practice rooms in addition to the newly transformed Attenborough Centre for the Creative Arts. In addition to this students are also offered masterclasses and concerts  alongside lectures, seminars and workshops.
Sussex offers two music courses both of which are flexible to allow students to tailor their degrees to their strengths and interests. Students are given the chance to develop real-world skills by joining a band, music society or the university symphony orchestra.
Trinity Laban Conservatoire of Music and Dance
Composition; Jazz; Keyboard; Strings; Vocal Studies; Wind, Brass & Percussion; Musical Theatre 
Trinity Laban boasts a world-class teaching staff who play with leading chamber, jazz ensembles and orchestra, sing with opera and musical theatre companies and are renowned composes and acclaimed recitalists. Alongside this expertise is an international cast of visiting artists, mentor ensembles and placement partners.
As small specialist, Trinity Laban offers a host of specialised music courses from the instrument specific, to the genre specific, composition and musical theatre.  Students are all offered rigorous one to one lessons and musical tuition as well as encouraged to collaborate widely both within their degree subject and among others.
Trinity Laban has a reputation for excellence, with the highest graduate employment rate of any UK conservatoire. This reputation and the constant opportunities for students to build their professional networks makes Trinity Laban a great place to kick start a career in music.
University for the Creative Arts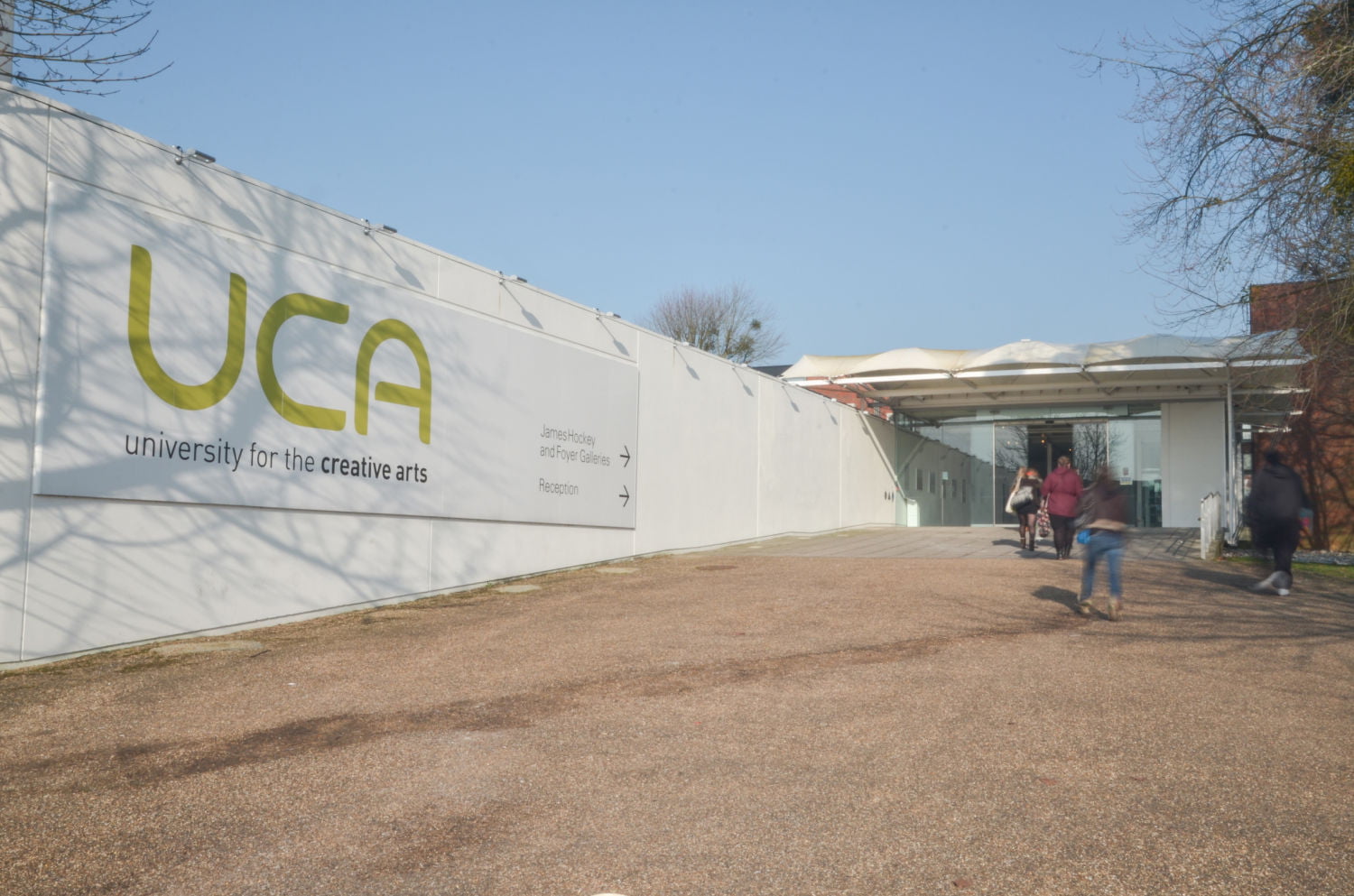 BA/BSc (Hons) Music Composition & Technology UCA Farnham
Music Composition and Technology at University for the Creative Arts is taught at their Farnham campus and pioneering in its field. The course allows students to choose whether they receive a BA or BSc after specialising in their second year, allowing for flexibility and a broad knowledge base.
Students will leave their degree well prepared for the world of work and well-connected having participated in a combination of activities, lives projects, collaborations with other disciplines, work placements and engagement with industry professionals.
Students will be able to access digital media suites, sound editing and mixing suites which include software such as Avid Media Composer, Symphony Nitris and Pro Tools, an on campus media store with a good supply of high-end sound recording equipment to hire.
University of East London
BA Music Performance and Production; BA Music Technology and Production
The University of East London offers a great deal of flexibility to its students, admitting those with an interest in music even if they do not have a formal music qualification.  Students will learn in and outside of campus, combining work at superbly equipped university studios, including recording studios, post-production suites, rehearsal and performance areas. They will also benefit from organised performances at arts venues in East London. All teachers in the music department at UEL are producers, composers, theorists and performers, ensuring students receive industry focused tuition.
Students will be able to study in east London's thriving hub of creativity which attracts the best emerging musical talent in the UK and abroad, offering them a wealth of opportunity.
University of West London
Composition; Electronic music production; Music mixing and mastering; Music performance; Music recording and production; Music technology and composition
Above are only a sample of the 14 music courses available at University of West London including composition, music technology and more, many of which also allow the option of a foundation year. Many of these courses are interdisciplinary combining music performance with music management or music recording with music production.
Based at the University of West London is also the London College of Music which boasts unrivalled music facilities with 18 professionally designed studios, nine live rooms, many practice rooms with a piano each, concert and recital venues and much more. Students of music performance and/or composition can also benefit from five acoustically isolated teaching pods each with pianos and mirrors for vocal training. Students are given the opportunity to take part in work-based activities facilitated by the university's own commercial production company (W5 productions).
University of Westminster
Commercial Music Performance BMus Honours;  Commercial Music BA Honours
The Music department at the University of Westminster sits in the Westminster School of Media, Arts and Design in Harrow, North West London. It is one of the first departments of its kind in the UK, having a strong reputation and partnerships with leading popular music centres around the world.
The Harrow Campus is home to 12 professional recording studios, a new teaching recording studio, and an array of television, post-production, radio, film, video and multimedia facilities. Learning and teaching is delivered in a variety of ways: as well as set-piece lectures, Westminster makes innovative use of technology and blended learning through blogs, discussion boards, skype-based tutorials, online tests, and student-generated conferences. Assessments are equally wide ranging, and may include live debates, reflective journals, rough mixes, public rehearsals and comprehension exercises. Commercial Music Performance students can expect to be taught through masterclasses, lectures, seminars, individual tutorials, and instrumental and vocal workshops; and a wide range of assessment methods includes oral presentations, reports, essays, group projects, and presentations of creative work.